Pedal Repairs
I have many years experience of repairing all types of guitar effect pedals, especially vintage models as often I own an original to use an a reference model. Repairs have included Univibes, most Electro Harmonix pedals, most types of wah pedals, most fuzz pedals (both germanium and silicon) and so many others I have lost track.
I have schematics or can obtain them for most units. I charge a reasonable rate and will quote both price and timescale before proceeding with any work.
If I feel a pedal is beyond repair or is likely to cost more to repair than buy a replacement I will advise of this rather than charge for unecessary work to be done.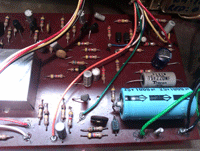 Sorry but I do not take on any digital pedal repairs such as Line 6 as this is usually very problematic to diagnose and can involve parts only available to service centers.
Please use the CONTACT FORM to discuss any repair work.
- Remember that any alterations / mods will affect any warranty you may still have with the pedal. -